Astrodon Premium DSLR Replacement UV/IR Filters
for the
Do-It-Yourselfer
If you are comfortable in working around microelectronics and expensive CMOS sensors, you may want to purchase just the replacement filter to modify your own Canon DSLR from any of the instructions that are available on the internet. I am now proudly the North American supplier of premium quality Astrodon Inside DSLR replacement filters made here in the USA. High end CCD imagers are well acquainted with the quality of Astrodon filters. These DSLR filters are the same as the Luminance filters sold for CCD imaging...they block longwave IR and UV energy, but pass visible light and the all important Hydrogen-Alpha energy.

NEW! Astrodon now offers the AD40Clear filter for Full Spectrum Modifications. Learn more about it HERE.
The DSLR camera provides the means for hobbyists to affordably enjoy astrophotography, but there is a catch. DSLR cameras were designed for daylight use. They were not designed to easily pick up the rich red colors common to astronomical objects. This deep red light comes from the excitation of hydrogen atoms in space at 656 nm. We call this hydrogen-alpha, or H-a light.
Canon and other cameras have an internal filter to provide good daylight color balance, but this filter decreases the sensitivity to H-a light to about 20%. This low red sensitivity makes astrophotography with stock DSLRs problematic.
Therefore Astrodon provides a replacement filter for Canon DSLR cameras that regains H-a sensitivity to 99% - about a factor of 5 improvement in sensitivity. The original Canon filter (below left) has a blue-green color, whereas the Astrodon Inside replacement (below right) is totally clear, yet it also blocks all UV and near-Infrared light.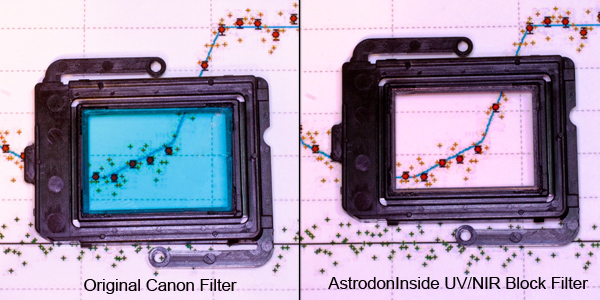 You can see the difference in the following graph, where the transmission of light through each filter as a function of wavelength is compared.
You can see that the Canon filter passes only 20% of the H-a light to the sensor whereas the
Astrodon Inside
passes~99%. You can also see that the
Astrodon Inside
filter blocks all UV and Near-IR light. In the Near-IR, we only transmit 0.003%, whereas a
competitor's filter lets 6% Near-IR light pass to the sensor
. That's 2000 times less for the
Astrodon Inside
filter. We used the Canon filter spectrum from this reference.
The Canon filter must be removed and replaced by the Astrodon Inside filter. For daylight use, you will use a custom white balance, often shot with an 18% gray card. Thus, the modification allows you to enjoy daylight photography while using your Canon camera at night for astrophotography. I have more information about using modified cameras for daylight work HERE.

Filter Characteristics
The AD40D is for the following cameras:



| | |
| --- | --- |
| Canon Camera | AD40D |
| | |
| Digital Rebel 300D | No |
| Digital Rebel 350XT | No |
| Digital Rebel 400D/XTi | Yes |
| Digital Rebel 450D/XSi | Yes |
| Digital Rebel 1000D/XS | Yes |
| Digital Rebel 500D/T1i | Yes |
| Digital Rebel 550D/T2i | Yes |
| Digital Rebel 600D/T3i | Yes |
| Digital Rebel 650D/T4i | Yes |
| Digital Rebel 700D/T5i | Yes |
| Digital Rebel 1100D/T3 | Yes |
| Digital Rebel 1200D/T5 | Yes |
| 7D | Yes |
| 10D | No |
| 20D | No |
| 30D | No |
| 40D | Yes |
| 50D | Yes |
| 60D | Yes |




Use your Canon EOS for daylight AND astrophotography
Increase the H-a sensitivity by 5x to ~99%
We use the highest quality, straie-free, fused silica substrates for distortion-free images
Our substrates have 1/4 wave transmitted wavefront or better prior to coating
Rigorous filter thickness control for proper EOS focusing
100% coated to the edge of the filter with built-in anti-reflective coatings
Hard, durable coatings that do not require sealing at the edge
Thousands are in use as Astrodon's luminance (L) CCD filter
Blocks UV and Near-IR light to better than 0.003% for no leakage
You do not need a separate filter to block UV or NIR light on your lens
Best performance for a replacement filter for your Canon EOS
Inventory maintained to avoid long waits
Proudly made in the U.S.A.
PLEASE NOTE: When doing your own camera modifications, you void any remaining warranty on your camera and you take full responsibility for any damage done during the modification. Of prime importance when doing your own mod is to return the sensor platform via its three adjustment screws to within 0.001" of its factory set position or your autofocus will not be calibrated, and worse, your sensor may be tilted. I will be happy to answer questions via e-mail but cannot be held responsible for any damages. If you do not feel comfortable working on microelectronics, handling the expensive and fragile CMOS sensor, and making measurements of before and after sensor positions to within 0.001", I offer full modification service using quality Astrodon Inside filters.
Description
Price
(inc. US shipping)
Part # AD 40D Replacement UV/IR Filter (one per customer - no resellers)
$105.00
Priority International Shipping for customers in Canada (price reflects 2014 USPS postal rate increase)
$20.55
Priority International Shipping for all other non-US customers (price reflects 2014 USPS postal rate increase)
$24.75